Our Business

In 1923, Takechi Komusho, one of the JAPAN PILE predecessors, started to produce and construct the "Takechi Pile". This is said to be the first precast concrete pile commercialized in Japan. In 1935, Daido Concrete, also one of the JAPAN PILE predecessors, started to produce "hollow cylindrical RC pile" which is said to be the first one of this type. JAPAN PILE has historically led the foundation construction industry, and, today, is one of the largest players in this field.
Our products provide the "power to support buildings from underground". Those ranging from residential and commercial buildings, theme parks, bridges, roads and schools.
We handles thousands of construction projects each year across Japan, a country with frequent earthquakes. Based on our track record of those projects with high quality and reliability, we hope to contribute to the realization of an affluent society.
JAPAN PILE is the general foundation construction company which can handle all types of pile foundation; precast concrete piles, steel pipe piles and cast-in-place piles.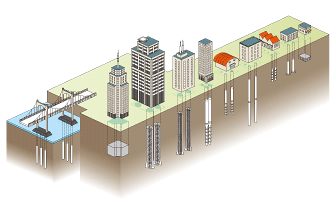 Most companies in foundation construction industry specialize in one type of pile foundation.
JAPAN PILE has established its business structure enabling to handle all of the major three types; "precast concrete piles", "steel pipe piles", and "cast-in-place piles". As a general foundation construction company, we offer the solution in foundation construction for our clients.
Operational Structure
JAPAN PILE, as a one-stop service provider, meets diverse client needs, covering all aspects of foundation construction.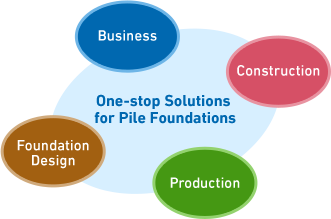 In Japan, stratum structure is quite complex and nature of the same soil can vary from region to region.
Our design section provides the optimal foundation design corresponding to each combination of the building and ground condition. Our construction section makes plan for construction project and monitors and administers construction process.
Production section owns top-class production capability in the industry. Through pursuing high level technical expertise and services in all aspects of design, construction and production, we provide foundations supporting variety of buildings. Also, JAPAN PILE has strong network of engineers and sales representatives with extensive knowledge of the region's ground profile.
Globalization
From Japan to Asia –
our expertise gets more trust and supports more people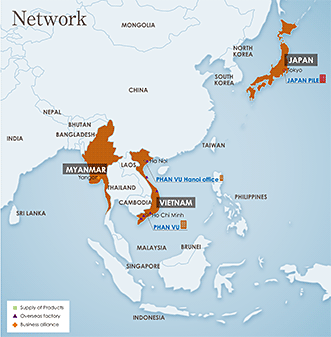 After the financial crisis called the "Lehman Crisis" in 2008, JAPAN PILE took the first step toward the globalization in order to strengthen our business base, especially focusing on the ASEAN region with a soaring number of infrastructure and large-scale building projects. In 2015, we changed our corporate structure to holding company system, and JPAN PILE, as a member of ASIA PILE HOLDINGS group, will contribute to the development of Asian society and support safe and secure living of people in the region, fully using our comprehensive and high-level expertise accumulated through foundation business in Japan.